Nectar and Jelly

Please note that all of information provided on our website about our products is meant to be informative only. For more information regarding prices, please visit our store in London (502 Springbank Drive, London, ON), phone us (519) 657-0745 or send us an email [email protected]
A variety of birds and other wildlife enjoy eating nectar and fruit. Hummingbirds are typically the birds that we think of when talking about nectar (a mixture of sugar and water); however nectar is also enjoyed by orioles and butterflies. It is important when providing nectar to keep it fresh, as spoilage will discourage birds from feeding. It is also important that any nectar offered does not have any artificial sweeteners or dyes as these can be harmful to the birds. Nectar can be offered in a wide variety of WBU hummingbird, oriole and butterfly feeders.
Fruit is offered in a variety of WBU products. We offer fruit such as cranberries, blueberries, raisins, apricots, apples and cherries in our seed blends, suet, cylinders, Stackables™, Bark Butter® and much more. Fruit is particularly popular among orioles, robins, catbirds and mockingbirds. Orioles in particular are attracted to dark fruits and one of their favourites is grape jelly, which can be offered in a variety of feeders.
WBU London has a wide variety of WBU Hummingbird Feeders and Oriole Feeders which accommodate nectar as well as fruit.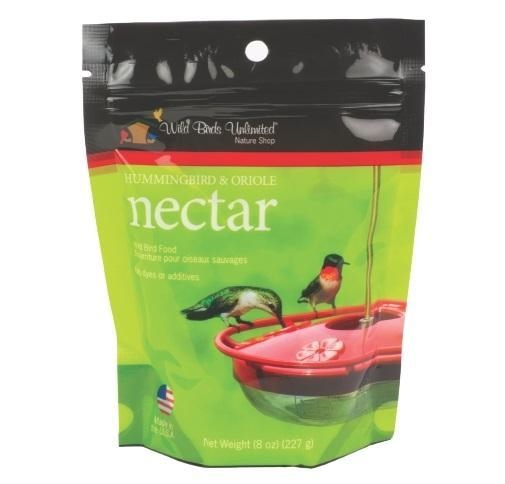 WBU Hummingbird and Oriole Nectar: Attracting Hummingbirds and Orioles to your garden is as easy as providing the food and plants they prefer. Serving a nectar solution in feeders will supply a dependable source of energy that is comparable to the flowers on which they naturally feed. Our WBU nectar is a high-energy nectar solution which keeps Orioles and Hummingbirds robust and healthy. It is 100% pure, safe, nutritious and beneficial with no dyes or additives.
Box Size: 8 Oz. (227 g)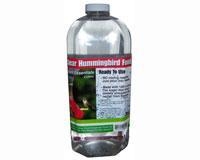 Ready Made Clear RTU Nectar: Clear Hummingbird Food Concentrate. All natural; absolutely no artificial sweeteners or dye. Simple to use liquid nectar concentrate. No boiling of sugar or messy cleanup. Made with 100 percent sucrose, the sugar that most closely represents nectar from flowers.
Bottle Size: 2 Liter (67.6 oz) & 1 Liter (33.8 oz)
WBU Nectar Bottle: Create the ideal nectar solution for your hummingbirds with the WBU Nectar Bottle. Simply fill the container with warm or hot water, add one cup of table sugar or one box of WBU Hummingbird Nectar, replace the lid and shake until the sugar is dissolved. Use your new nectar solution right away, or refrigerate it (in the bottle) until you're ready to fill your hummingbird feeders. Available only at Wild Birds Unlimited, our Nectar Bottle is top rack dishwasher safe and BPA free. The WBU Nectar Bottle has a capacity to hold 4 cups (1 Liter).
Dimensions: 18.25" x 3.75"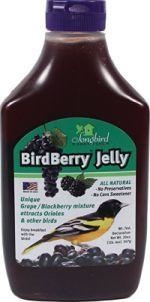 BirdBerry Jelly: Attract orioles and other fruit-loving birds with a delicious grape/blackberry jelly made especially for wild birds. BirdBerry Jelly is made with real fruit juice, sugar, and pectin. It contains NO high fructose corn syrup, like most grocery-store brands, so it is better for your backyard birds. Unique grape/blackberry jelly is an instant hit when used with any of our WBU Oriole Feeders. BirdBerry Jelly features no artificial flavors, no preservatives and does not need refrigeration.
Bottle Size: 1 lbs. (567 g)