How to Attract: Nuthatches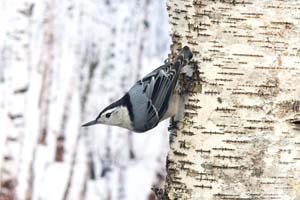 Often referred to as the "upside-down birds," nuthatches have the ability to climb down trees head-first. In our area, there are two species of nuthatch: the larger, more common White-breasted Nuthatch (pictured to the right), and the smaller Red-breasted Nuthatch (pictured below).
In the wild they feed on primarity on insects and spiders, but they are a frequent visitor to backyard feeders. Attract nuthatches with suet or seeds in either a tube or hopper feeder.
Nuthatches like to eat:
| | | |
| --- | --- | --- |
| Black Oil Sunflower | Peanuts | Suet |
Feeders for Nuthathces:
Copper Top Suet Cage
Add a touch of beauty to your birdfeeding setup with a Copper Top suet cage. The copper roof offers a bit of weather protection, and the birds such as Nuthatches, Chickadees and Woodpeckers will cling to the side to eat their meal.
Mesh Peanut Feeder
Our Peanut Feeder is designed for no-shell peanuts. Nuthatches will happily cling to the side to either pull out or peck away at the peanut pieces. It's easy to fill and easy to hang. Because it's made out of stainless steel, it comes with our lifetime guarantee against damage. (Weather Dome sold separately.)
Dinner Bell Feeder
Invite the birds to a delicious dinner with our unique Dinner Bell Feeder. It holds a wide variety of food, provides protection against bad weather, and the height of the dome can be adjusted to acommodate the birds you want to attract. Offer seed, peanuts, mealworms, fruit or seed cylinders to attract many kinds of birds. Comes with a lifetime guarantee. (Watch a video of the Dinner Bell Feeder under How to Attract Cardinals!)
Fundamentals Double Vision Feeder
Attract a variety of birds with this hopper-style feeder. The windows on each end let you know when it's time to top up the seed. Made out of pine, this durable feeder will appeal to large birds as well as small birds. Fill with our Deluxe Blend to attract sunflower eating birds at the feeder as well as ground-feeding birds below the feeder.
Accessories & Options:
PB & J Suet Dough Cylinder:
As an alternative, try offering a Suet Cylinder on your Dinner Bell Feeder or Decorative Seed Cylinder Feeder (see more under Cylinders & Stackables).

EZ Attach Bark Butter Feeder:
Add a Bark Butter Feeder to your Advanced Pole System and spread on some Bark Butter to attract nuthatches and other birds.