How to Attract: Woodpeckers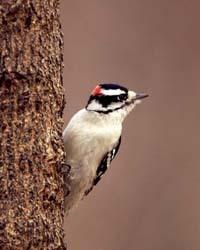 In our area, the two most common woodpeckers are the Downy Woodpecker (pictured right), and the Hairy Woodpecker (pictured below). Other than their difference in size (the Hairy is the larger of the two), you can also tell them apart by the relative size of their bill: the Downy's bill is smaller in length than the width of its head, whereas the lengh of the Hairy's bill is about the same as the width its head.
Though woodpeckers spend a majority of their time looking for beetle larvae, spiders, ants and other insects, you can attract these tough-beaked birds to your feeding station with the right mixture of fat and protein-rich foods. Download our brochure on Offering Suet.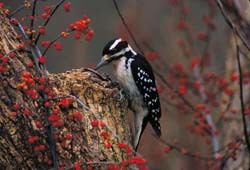 Woodpeckers like to eat: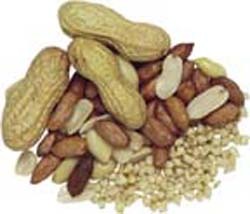 Peanuts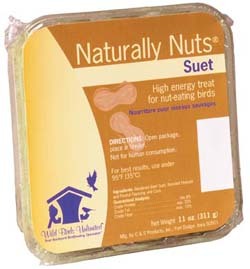 Suet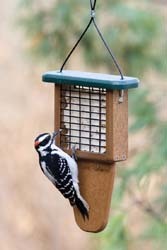 Feeders for Woodpeckers:
EcoTough Tail Prop Feeder
The Tail Prop suet feeder lets birds eat in a natural way. The paddle simulates a tree trunk and offers birds a place to prop their tail while they feed. Our feeder comes in two sizes, available to hold either one suet cake or two, and is easy to fill and hang. Our EcoTough feeders are made out of recycled plastic bottles, and have a lifetime guarantee against any damage.
Suet Cage Feeder
The 1 inch-diameter cage keeps out squirrels and blackbirds! Springs hold the top down so squirrels can't lift it open. Downy Woodpeckers, as well as Chickadees and Nuthatches, can easily fit through the mesh to dine on the suet inside. Holds up to three suet cakes. The suet cage feeder is made out of metal and has a lifetime guarantee against damage.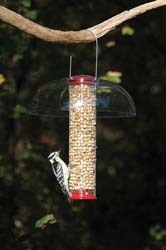 Peanut Feeder
Attract woodpeckers, chickadees, nuthatches and more with our Peanut Mesh Feeder. BIrds will happily cling on the side and pluck out the nuts. Made with durable stainless steel, it's easy to fill and hang. Comes with a lifetime guarantee. (Weather Guard not included.)
Upside-Down Suet Feeder
If you have starlings hogging your suet, turn their world upside-down. Our EcoTough™ Starling-Resistant Suet Feeder is made from recycled milk jugs and is designed to allow birds to feed from below, a comfortable practice for woodpeckers, nuthatches, chickadees and other clinging birds but difficult for starlings. Not only will it help you control your starling population, but it's also easy to refill, clean and hang.
Accessories & Options:
APS Suet Cage:
Attach a suet feeder to your Advanced Pole System with an EZ Attach bracket. Also shown: Add a Weather Guard for extra weather protection.

Starling Stumper Chain:
Turn a suet cage into an upside-down by attaching this chain. Keep the suet in its plastic container to make it only accessible from below.