How to Attract:

Mourning Doves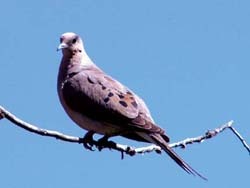 Their mournful cooing sound is what earned Mourning Doves their name. They have truly prospered from man's activities and are now one of the most abundant and widespread birds found in North America.
According to findings resulting from the Great Backyard Bird Count, the Mourning Dove is one of the top 10 birds reported at feeders. Although they will visit large hopper feeders, they prefer to feed at ground level.
Doves are one of the few species of birds that drink by sucking up their water instead of taking a bill full of water and letting it trickle down their throat. It can suck up its total daily requirement in less than 20 seconds!
Doves like to eat:
| | |
| --- | --- |
| White Millet | Safflower |
Feeders for Doves:
Hanging Tray Feeder
This small hanging tray is great for hanging close to a window or for adding to your APS birdfeeding setup. Simply sprinkle white millet or safflower seed, and the Mourning Doves will sit and eat to their hearts content! Also attracts large birds such as Blue Jays and Cardinals. Available in Cedar or EcoTough material (recycled plastic bottles and milk jugs).
EcoTough Tray Feeder
Providing a ground tray feeder allows birds to find the food and allows unobstructed views for your observation and enjoyment. The open feeder allows bird to easily find their food by sight, and the perforated metal tray drains water quickly and lifts out for easy cleaning.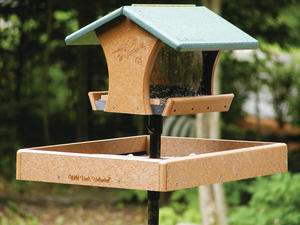 Because the tray can function both as a ground tray feeder and a catch-a-seed tray for your Advanced Pole System, the legs are sold separately from the tray to provide you with both options.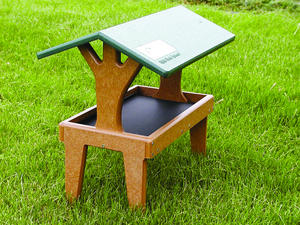 EcoTough Ground Fly-Thru Feeder
Sprinkle some millet in the tray to attract Mourning Doves and others. The roof protects the birds and food from the elements, and the perforated metal bottom lifts out for easy cleaning. EcoTough feeders are made out of recycled plastic, and will not crack, rot, or fade.